I back up my Mac using Carbon Copy Cloner (CCC) and I got to thinking about whether or not I could use CCC instead of having to use the BBM to export to my card; this saves me a lot of time and also from having to copy the PARAMS folder to the card.
One of these days we'll see an updated BeatBuddy Manager (BBM) that will fix the BBM bug where Mac OS X ≥ 10.12 users' are unable to synchronize their current project to their SD card because the menu item is grayed out. Until then, here's something that works—if you're a CCC owner, you can use CCC on your Mac to clone your current project from your bbworkspace projects folder to your SD card.
The first time you clone your project to your card will take about one minute per gigabyte. After that first cloning, CCC will clone as if it were synchronizing and it just takes a few seconds.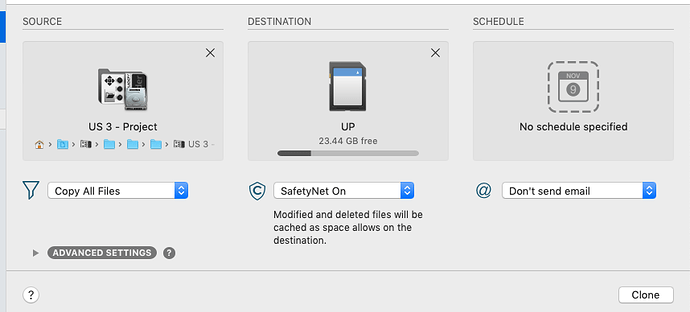 Only disadvantage I've found (and a very minor one at that) is that CCC will copy a 1Mb folder to the SD card that keeps track of the incremental file changes taking place during each cloning. Recommend using a 32Gb Class 10 SDHC.
Since Super Duper is also a cloning app for backing up Macs, there's no reason why it wouldn't work just as well as CCC.