Hi everyone, I'm new around here, my first post, so thanks in advance to everyone will be willing to help.
I downloaded one of the version of "Little Wing" from this forum, it's an old one that goes with StandardPBass kit. I found the bass to be too… prominent in the mix, so I was attempting to fix that with Reaper, by lowering velocity on the bass part.
I read @persist guide, and I managed to lower velocity for the bass part on the prejam (intro) and postjam (outro) but I have a problem when I try to open in Reaper the "main" part (the one that goes in loop).
I get this:


If I try to open Reaper midi editor, it does open: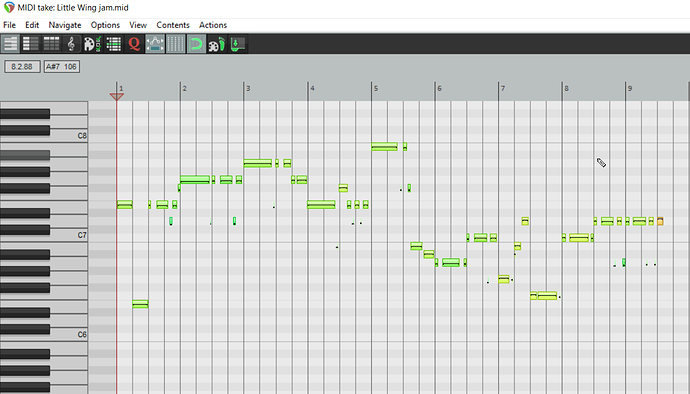 Anyway if I edit velocity on this file, export and then set the main part in BBM, I found that the part looping has two beats missing at the end of the loop (silent).
Not sure if I explained the problem clearly, I suspect this thing has somehow to do with the time signature but I have no idea how to fix it.
I know this is more of a "reaper problem" than a beatbuddy one, but since I see some folks in this forum using reaper I tried to give it a shot.
Thanks! Keep beatbudding.
Andrea
PS the song is this one: Little Wing 2017-12-04 - Jimi Hendrix - re-upload by request