I'm new to the Beat Buddy community, but I've recently added one and will be playing my first Beat Buddy enabled show in 2 weeks. I will have about 13 or so tunes worked up with the BB, out of around 35 we will play. This weekend I spent some time on my pedal board and got the BB, Footswitch, and Maestro all integrated. Thought I'd share my updates here!
Guitar->Pickup Booster(lead boost)->Tuner->OC-5 Octave->Tube Screamer->Vapor Trail Delay->Phaser->Chorus->HOF Reverb->Freeze->Boomerang (With Sidecar)->PA. Looper is midi synced with the Beat Buddy. The BB itself is on a dedicated channel on the PA.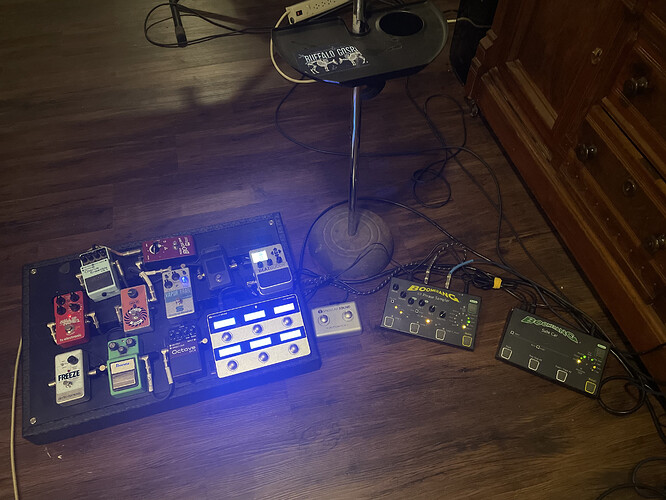 Currently I play acoustic and sing in a duo with a keyboard/bass player. We do a variety of mostly rock/blues/soul stuff from the 70's-90's. We have worked up BB+Looper versions of Comfortably Numb, Creep (Radiohead), Blue on Black (Kenny Wayne Shepherd), Superstition, and our Halloween special, Thriller->Another One Bites the Dust->Rest of Thriller, as well as several others.
What are you guys rocking on your boards and what do you play?