I got a bit frustrated with trying to figure out how to integrate the new 'Brushes' drum kit into my original BBM workspace so I created a second folder called BBWorkspace 2 to make a fresh install of all the new content and not touching the old workspace which has gotten a bit messy and had not been installed correctly from the get-go. Thus far jumping between the two has not seemed have any issues. However I have not tried to save or sync data to an SD card as of yet.
Does the workspace being used write any data to the SD card that identifies a given workspace that is current which might cause a problem?
I'll likely try to migrate some of what I have in the original workspace folder over to the new, but it's kinda nice that I still have the old brushes kit for comparison to the new.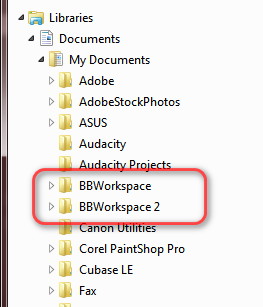 My original install was kinda botched up that the original default DRM content got put in the 'user_lib' folder rather than the 'default_lib' folder (the default MID files did get into the default folder somehow) . With the new install into BBWorkspace 2, I put all the default content appropriately into the 'default_lib' folder. Would this be the reason the drum kits in BBM show differently?