I recently downloaded XGWorks as I used to use it years ago with some old Yamaha gear I had and thought I'd take another look to see what it could do. It has a MIDI drum editor, so I loaded up a MIDI drum pattern file to play around with.
It was easy to move notes around and adjust not only the individual note volume, but also the volumes of groups of selected notes. I haven't dug into it too far, but thought I put it here for others as a possible alternative the BB editor. Hey' it's free so what would you have to lose trying it!!

There's good documentation in the PDF 'Help' file accessed from within the program.
Extract the RAR file to a temporary folder where the exe install file will be located. Windows only.
http://www.xg-central.com/archive/software/XG-Works_307E.rar
In this screenshot I have a group of Hi-Hats selected which I can change the volume of as a group. Individual notes can also be selected using CTRL + mouse click which is useful to adjust several notes not adjacent to each other. Adjustment is done by grabbing/dragging the square in the lower box that shows note velocities. I think there's a lot more that can be tweaked that I haven't explored yet.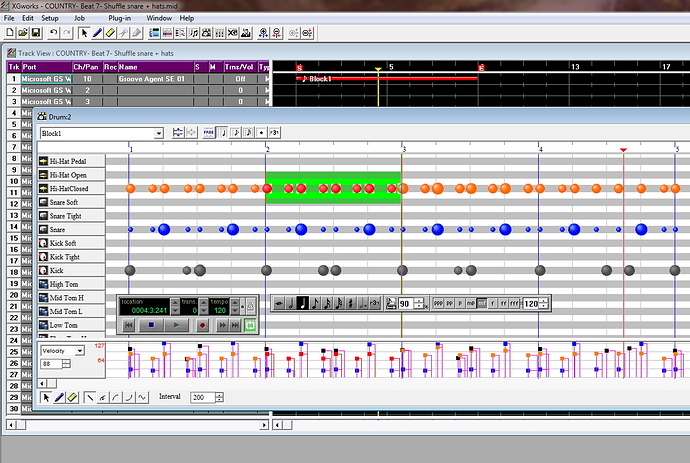 Right clicking the instrument names brings up a menu with 'Properties' where different Yamaha XG kit names can be selected. I think this is pulled from an 'ini' text file in the programs directory. I'm not sure yet if this 'ini' file can be edited to align with BB drum kits/instruments, but inclined to think it's doable. I started to play with this idea, but need to explore it more.