Mac version does not work at all

For us to help, you'll have to provide more detail.
What version of the macOS are you using?
What are the symptoms?
Any error messages?
This is my older Mac mini desktop running Mac OS Mojave 10.14.6. I also have a new laptop running latest and greatest.
Error message upon trying to run BBManager software says "should be moved to trash". Click the ? And says Apps authorization has been revoked. Developer certificate revoked.
I just bought a beat buddy and am very disappointed to learn the Beat Buddy Manager does not work in Mac OS Mojave and later. WTF Singular?
It works quite well with Mojave—which is what I'm using.
If you need or expect help from forum users, you're gonna have to be much more helpful by describing the specifics of your issue.
Right click the BBManager App, choose "Get Info". There is a checkbox called "Override Malware Protection". Check it. Then go make millions playing shows!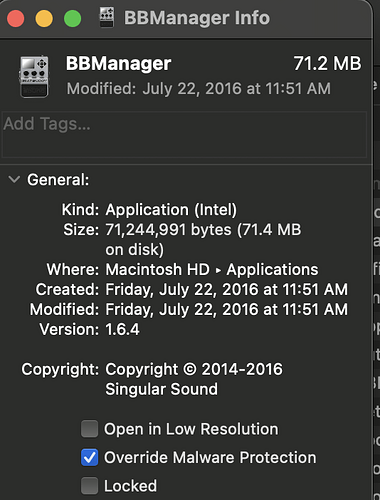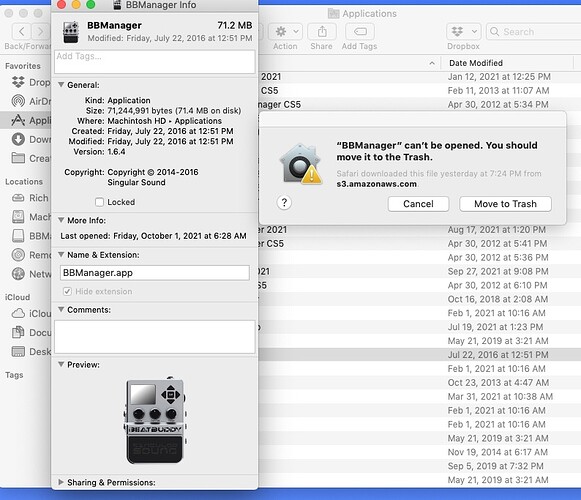 No luck with that. I actually tried that first. There is no selection to override malware on Mojave.
sadly I have the same issue with Mac OS Big Sur 11.51
At one point a few weeks ago I was able to get it to work but not any more!!
Tina
MOD UPDATE: resolved using Cyril-click to launch the BeatBuddy Manager (BBM).
Same problem, I can't open the BBmanager any more on my Mac
Works, I hope that I don't have to do this everytime Apple gifs an update