Bonjour,
je cherche la pattern de batterie "cotton field" des creedences . Avez vous ça ?
Cordialement
Gérard
Please post in English so that other users can understand and try to help. Thank you
Thank you very much.
Have a good day to you.
Hello, could you explain to me how to get the bass played by the beatbuddy, I don't understand.
The steps are:
Search the forum for the drum set suggested for the song; * How to find drum sets or songs on this forum and the old one
Download (and if needed, unzip) the drum set
Use the BBM File > Import > Drum set
Click on Drum Sets tab
Scroll to bottom of the list of kits, put a check mark next to the drum set you just imported
Save Project and press Songs tab
If the drum set does not appear next to your song, select it from the drop down menu
Save Project then Play the song.
Hello, impossible to import the song, it displays me this message!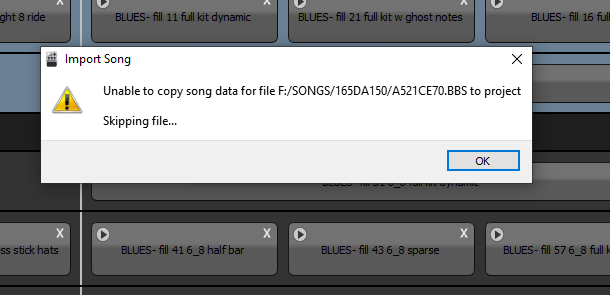 I successfully imported both versions of Cottonfields. When downloading, sometimes we don't get a good download. Please download, unzip and try importing the song again. If that still does not work, let us know.
Is F:/ your SD card? If so, it seems like you are exporting or synchronizing your Project from the BeatBuddy Manager (BBM) to your SD card?
I tried again and it still doesn't work. I always get the same message I'm sorry.
Your project and BeatBuddy (BB) files should be located on your computer hard drive in a folder similar to this location or general path user/documents/bbworkspace
From what I can tell, it looks like you might have the files that should be located on your computer hard drive located on your SD card and that might be why you are getting the Error message.
This is all a part of when you first install the BeatBuddy Manager (BBM). For example, this is a screen shot of where my project is located on my computer hard drive: (the path is highlighted in yellow)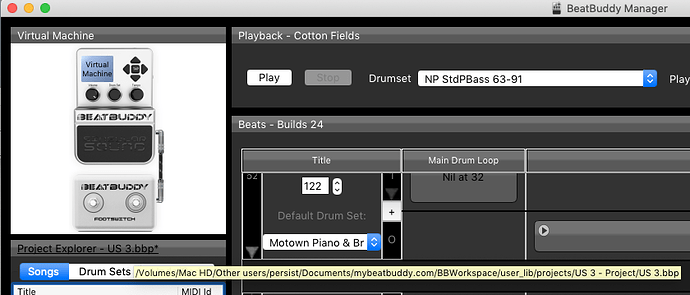 You can find and display your path by hovering your cursor over the Project Explorer (beneath the Virtual Machine). If the path to your project is displayed as being located on your SD card, you will have to change that. Because I am using a Mac, the location and name of my bbworkspace may be different than that of Windows users.
On your BBM > Tools > Set Workspace Location and navigate to your bbworkspace folder on your computer hard drive and select that location. This is the location the BBM will use to manage and edit your songs. You import songs and drum sets to the project in your bbworkspace folder. Here's a screen shot of what Set Workspace Location looks like on my computer: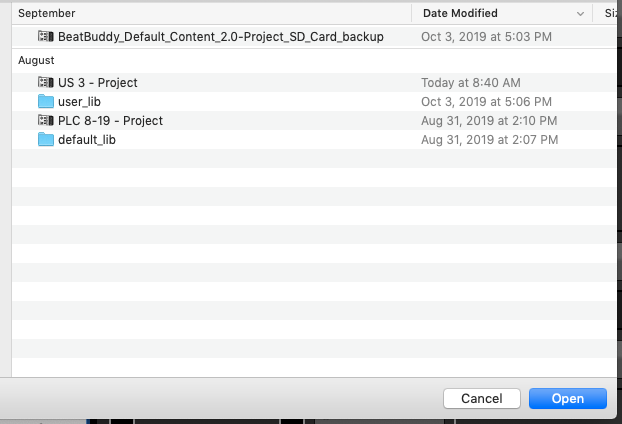 When this is set up correctly, you use the BBM to export your project from your computer's bbworkspace to the SD card. After the first export you use the BBM to synchronize any changes to your project to the SD card.
It's great, it works, I did as you told me!
Many thanks again!
Have a good Sunday
Very good to hear. Sharing your screen shots helped me to figure out what was going on.
Good morning and good Monday,
I'm sorry but I have an export problem on my sd card. My project doesn't want to copy itself on the map!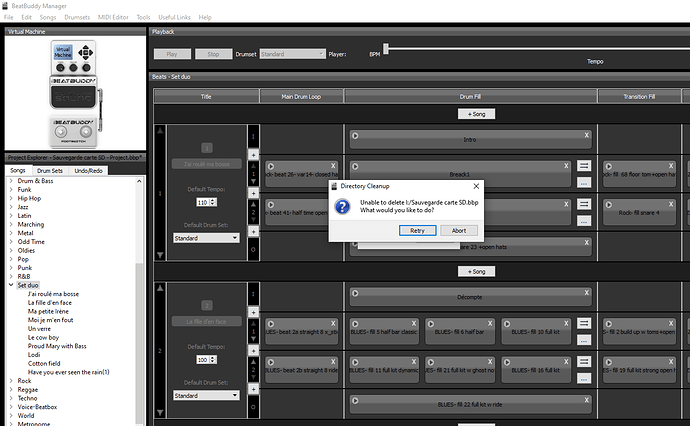 And a happy Monday to you too!
Make sure your SD card is not locked and try again. If it still does not work, press Abort and then quit the BBM and then start BBM again. Instead of using Export, try Synchronize Project to SD card. If that menu entry is gray, try Export Project to SD card again and
if you get the error message again, press Retry repeatsedly until the message goes away.
Oh, for God's sake! I'm an idiot, my sd card was locked!
Sorry to have bothered you for so little.
Now it works perfectly. Thank you again
It has happened to all of us at one time or another—so no worries and certainly no bother