So i don't have my beatbuddy yet but i started messing around with the BBManager to create a custom kit however the wave_sources folder looks completely out of wack.
I tried loading a wav file for a kick and one for a snare (tho i know i put it in note 37 for sticks) however once i save the drumset and project, close the drumset and quit BBManager, when i come back to it the wav don't play any sound and the wave_sources gets all completely out of wack
I'm assuming this has to be why after restarting BBManager there are no sounds when you hit the play button for each wav.
Seems as if the last folder that BBManager creates becomes the root of the wave files for it.
I figured i could fully uninstal it (i'm on macos btw) but i tried removing the app and the BBWorkpace folder and when i reinstal it it tells me that there's a project missing so i'm assuming there are other files that need to be deleted, i checked my user library for anything for bbmanager or singularsound but nothing.
Any idea on how to remove all the files attached to the app?
Here's a screenshot of what the wave_sources folder looks like.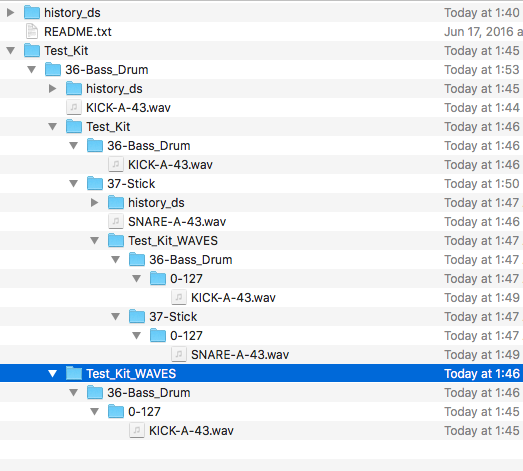 PS. i opened the .drm drumset file with a hex viewer and i noticed paths like this one listed on a new drumset i tried creating
/Documents/BBWorkspace/user_lib/wave_sources/Test/36-Bass_Drum/Test/36-Bass_Drum/KICK-A-127.wav