Just wondering if there is any updated news re Midi Maestro release time?
Like to know myself. Really would put things in order at the gig.
The most recent update said they were aiming for a July shipping date. Since they started it a year earlier, I had hoped they would prioritize it over the looper, but, apparently, they didn't want to derail the looper's progress, so the MM will likely come out after the looper.
Unless, of course, the looper is hugely delayed as well. We'll see, I guess.
Yeah…I'm thinking of moving back to a laptop/controller setup and if the maestro was coming out I'd hang back a bit…but it looks like it may not even be ready by Q3 this year going on what you mentioned. So I might even sell it off and stick with Jamstix in my live laptop rig setup. TBH Jamstix is far better at creating nice dynamic variations "on the fly" rather than the straight ahead of the BB…BB is still great mind you, but I think it may just be superfluous to requirements…with the Maestro though it could still have been useful.
I'm disappointed as well, but I take some comfort in knowing that, while Singular has never met their first shipping deadlines, the resulting product has, so far, always been worth waiting for. I'm not pressed, so I'm holding out for the MM. Heck, if you've pre-ordered, I might just take yours as well!
haha, no I don't pre-order anything really.
well, It would be the right time to show a first video of the Midi-Maestro in use with the BeatBuddy. At least some basic functions to give us a better picture of the usage concept.
Hello David,
an update on the current status of the Midi Maestro would be really great. I would also learn more about the MM app.
Here is a pro type of Maistro from the 2019 NAMM show

Well. I see its pushed back ANOTHER 2 months. Now showing an August 2019 date. Christmas maybe? While I'm still alive and able to play, maybe?
I'm surprised by this – but I also believe they pushed the Aeros Looper in front of the MM for release, so it's possible, I guess.
(by "possible," I am referring to the part about "While I'm still alive and able to play, maybe," @Phil_Flood)
That's a bummer about another delay. I was hoping to get my hands on it for the summer shows.
Hopefully it will be worth the wait!
?? Where do you have the August 2019 date from? Following this link it still mentions 30th of June 2019 as availability date …

Are they playing hide the pickle?
Click on the FAQ link: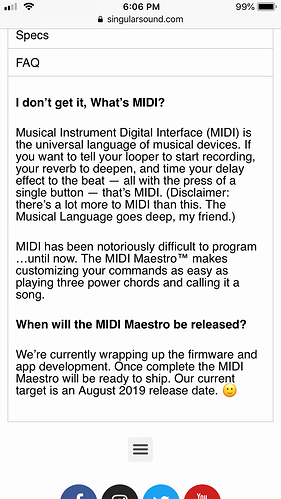 and it's at the bottom of the page.
P.S. I had to ask somebody to show me the August date.
"Are they playing hide the pickle?"
Umm, pardon me? That's a pretty personal question for a public forum!
And probably even more personal for those whose "pickle$" might still be aging in the pickle barrel.
Keep your hands off my interest-free pickle!

IIRC they gave us $100 pickles back. However, it has been our day in the barrel for quite some time. $199 pickles worth.
@Phil_Flood Where are you seeing the August 2019 date? Without letting on more than I'm allowed, I'm like 95% certain that's not correct.