hello
I have a problem with my Beatbuddy upgraded with the last firmware.
Hitting the secondary footswitch first button (configured to play accent hit when playing) I get no crash sound whereas there is one in the song playing.
I did the footswitch detector again successfully and I know my secondary footswtich is not broken because when I configure the first button to tap tempo it works.
In the BB Manager the accent hit works fine as well.
I have to precise that this problem occurs for every songs no matter which accent hit is used.
I don't know whether or not it could be related to my problem but when I synchronise my SD card with the BB manager I always get these warning message :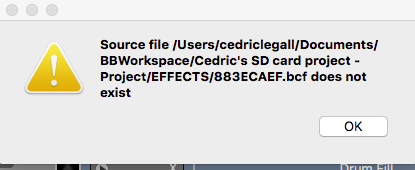 I click ok and the synchronizing process resume to the end.
Could someone help me with this annoying issue please ?