I've reached the point that I can no longer tolerate the behavior of BBManager Drumset Maker. I've embarked on a project of reorganization my attached storage in my Mac Pro. For sake of argument, let's just say I have about 24TB of attached storage. The real number is unimportant. What is important, however, is that I recently upgraded my system drive SSD from a 2TB SSD to the 4TB SSD. I was running out of space on the 2TB SSD. How can that be? Well here is an example. I decided to see how many sets of WAVES folder I have generated for a particular drumkit. And to be very fair and reasonable, I chose the Studio Legend kit, because I really have not used it much yet, much less tried to open it an edit it. A search of my HD showed that I had 2 folders called Studio Legend v1.0 WAVES. 1 of those is embedded 24 folder deep in various other BB drum kit folders. Another was the the back-up copy of that HD which, of course, also shows a 24 deep embedded folder. this was reasonable and expected, other than the 24 deep issue. However, when I then double clicked on Studio Legend in my drum kits list, it created another instance of the Studio_Legend v.1.0_WAVES, also embedded 24 folders deep in another BB kit. So, I decided to see what was at the top level of this mess.
In my Document, a folder exists called Default_lib. Inside there is one called Drumsets. When I click drumsets open I see: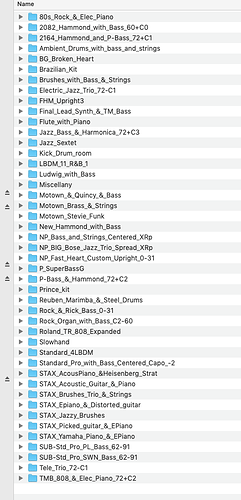 This is a fairly small list of some of the drumsets in my BB projects. There are 45 kits shown. I decided to see how big the drumsets folder was. Reasonably, 45 kits should be a max of 4.5 GB, assuming 100mb per kit. But, here it is, Yup, 48.2GB. 48.2 GB. And that was just from searching for one folder. How many other strings of crap are out there on my HDs?

If everytime I click a kit to look at it or edit it, BBM creates a new set of kit WAVES, I must have several TB of just BB WAVES from kits. And can I delete them? I don't know. How would I know which ones I can delete without messing up BBM?
FIX THIS MESS ALREADY!!!