Hi guys! I'm very pleased to show you my lastest creation, a Pro-grade MIDI Layout made for the Singular Sound BeatBuddy.
Hope you like it!
Regards.
Ed.
BeatBuddy Wireless MIDI Controller V1.3

Now Available!
V1.3 Update - October 1 2020
V1.2 Update - September 22 2020
V1.1 Update - September 19 2020
V1.0 Released on September 17 2020
I have put my best effort in doing this, so thank you for support my work.
Follow me for updates on what I am creating.
The "BeatBuddy" is a drum machine produced by Singular Sound. This app is not affiliated nor endorsed by Singular Sound.
Main View, Left and Right Panels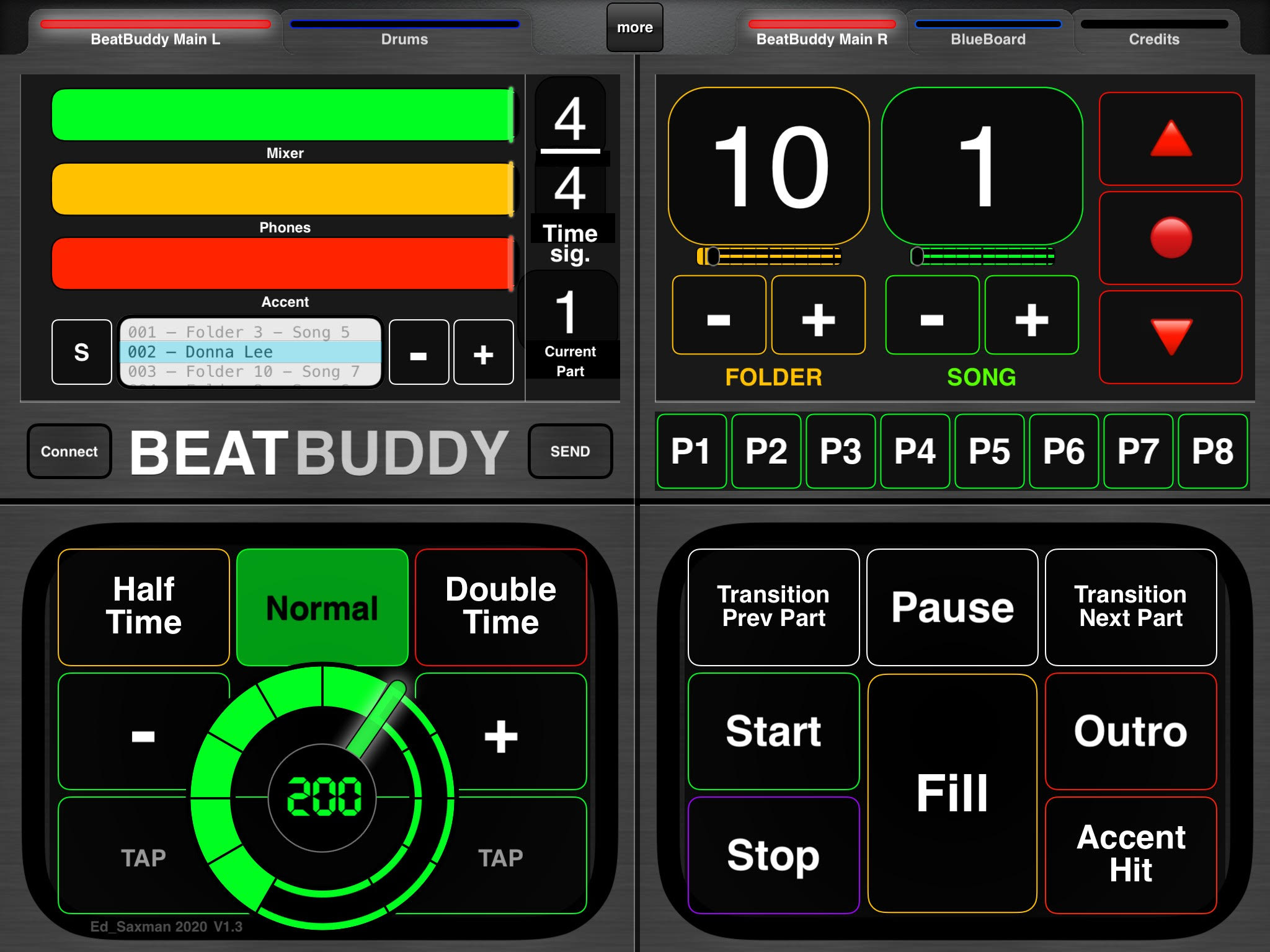 BeatBuddy Wireless MIDI Controller
Full tactile control over your BeatBuddy using MIDI over Bluetooth or MIDI to USB connections.
Bidirectional communication between your BeatBuddy and your iPad.
Features:
Includes all the BeatBuddy MIDI and SYSEX implementation based on the current firmware
Single Tempo knob capable to send a range between 40-300 BPM (this single point has proven to be really tricky, but this layout finally solved it in the most elegant way possible)
Capable to operate in any MIDI channel and remain operative (something great if you have some others MIDI Devices in your setup)
Saves your spine! Almost any usual operation can be done from the controller side, and provides many advanced features almost impossible to replicate with a physical controller (unless you use a very big one)
Wireless option: connect a Yamaha MD-BT01 to your BeatBuddy MIDI Sync cable and begin to enjoy a tangle-free life
Includes 6 octaves of Pads to play any individual drum sample. They also receive MIDI notes (turn On "MIDI Notes Out" in your BB settings), so it shows the notes playing in Real-Time)
Easy Folder/Songs navigation, with support for 128 folders X 99 songs.
Eight Transition Part buttons, allowing for easy non-correlative part changes
User Setlist: Store up to 128 user presets (Select Folder and Song, then press the "S" button to enter a name and store the preset in the desired location)
Drum Set selector: Store up to 128 user presets (Select the Drum Set number, then press the "R" button to enter a name and store the preset in the current location)
SYSEX receive: shows the Time signature of any song (Range [1-32], [1,2,4,8,16,32])
MIDI receive: shows the current part after a transition (only on channel 1 due to an BeatBuddy Bug. Please read post

#7

on this same thread)
Embedded support for the iRig BlueBoard: 100% Plug&Play! Preconfigured and ready to use.
Includes a small MIDI implementation to emulate the BlueBoard behaviour using different devices (Airturn, Airstep, etc)
Hardware and Software Requeriments:
Singular Sound BeatBuddy
Singular Sound BeatBuddy Midi Sync Cable
Apple iPad (Also for old devices! Even a 7-years-old iPad Air first gen will work)
MIDI Designer Pro 2 (IOS app, sold separately)
This MIDI Layout (Now Available!!)
Recommended MIDI Interfaces:
Wireless: Yamaha MD-BT01
Wired (MIDI to USB): Roland UM-ONE MKII + Apple CCK USB3
Recommended Bluetooth LE pedalboards:
Singular Sound MIDI Maestro (the BeatBuddy companion)
iRig BlueBoard (embedded support)
Airturn BT200 series
Xsonic Airstep
Changes Log:
V1.0 Released on September 17 2020
V1.1 Released on September 19 2020
Songs number limited to 99 (as it is in the BeatBuddy)
New "R" button (Rename) to easily label your Drum Sets on the controller side.
New Drum Set "Reorder" feature (it's also on the Drum panel). Associate any Preset to any Drum Set number, then press the "R" button to rename and store it.
Minor graphic fixes
V1.2 Released on September 22 2020
User Setlist: 128 user presets to store and rename Folder+Song combinations.
V1.3 Update - Released on October 01 2020
Global MIDI Channel Selector
Plug & Play Support for the iRig Blueboard Mode C (2)
Small MIDI implementation to be used with different BLE devices (Airturn, etc)