** Supertramp**
Notes:
9 Supertramp songs in a BeatBuddy (BB) folder; there are various versions for most (but not all of the songs); chords & lyrics (and some chord charts) are included for these songs. Some songs may have tempo changes.
Link (in blue font) to new user resources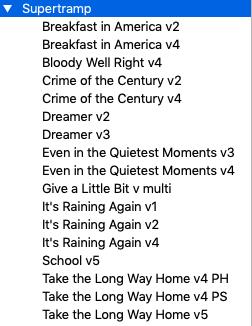 Song version_________________Suggested kit
Use the BeatBuddy Manager (BBM) to import the pbf file (which uses a custom icon);
The drum set called for by the song is identified in the Default Drum Set for each song and,
If you don't have that particular drum set available in the BBM, you will see an asterisk (*) preceding the kit name.
If you don't have the drum sets, in the BBM you'll have to use the forum search function to find, download, unzip, import and activate.
For some useful tips on how to search the forum for drum sets, click on the resources link, above.
Includes: 9 songs, some chord charts and Chords & Lyrics
Supertramp Sampler.zip (902.4 KB)
1556
My to-be-posted queue is at Some songs to look for in coming days/weeks/months, etc
With apologies to the Rolling Stones but "It's just a search away…"