Hi fellow BeatBuddies!
Edit (9/6/23): We made added some additional MIDI support and made some bug fixes (see changelog below): Download BeatBuddy firmware 4.1.6 here
If there are any issues with this version, you can revert to BeatBuddy firmware 4.1.4 here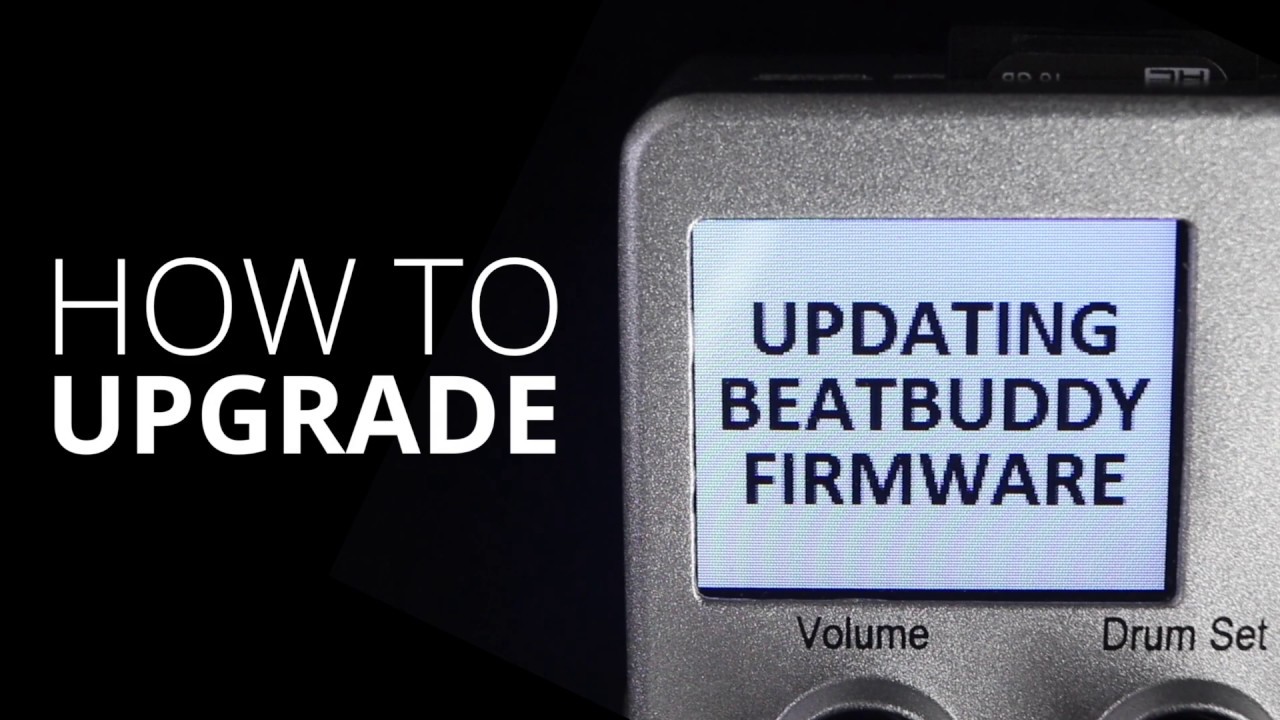 BeatBuddy Firmware 4.1.6 Changelog
Added CC:104 to open settings

Values between 1 and 127 open up the settings

Added support for part selection (without playing) when receiving CC113 while stopped.

Value 1-32: BB Stays in a stopped state but displays the current part selected. If the part does not exist, the BB displays the STOPPED message
Value 126: Previous Part
Value 127: Next Part
Value 0: BB starts at the current part following the Intro setting.

Allows changing parts while stopped, CC:113 values 1-32 will select the BeatBuddy Part if that part exists. CC:113 values 126 and 127 will toggle through the stopped parts.

The BeatBuddy will start from a stopped state when it receives CC:113 value 0, this helps the BeatBuddy start in sync with the Aeros as MIDI Transmitter (Master) when switching parts to restart the BeatBuddy

Added a MIDI command to open the settings, CC:104 value 1-127

The external foot switch can also be used for previous and next part navigation. (New options in the footswitch settings menu)
Bug Fixes
Fixed scrolling current selection up or down by one song in a playlist when using external MIDI CC:119 value 1 and value 0, respectively
Set Transition Forgiveness as enabled by default
---
BeatBuddy Firmware 4.1.4 Changelog
Ignores CC:113 values 33-124
Crash when receiving MIDI CC:113 while stopped fixed
Will now transition to part set by last received CC:113 command, for example, if you send CC:113, value 1, followed by value 2 followed by value 3, and then send value 0, it now correctly switches to part 3. This is to work better with the Aeros when the Aeros is MIDI Transmitter (master) and Auto Song Part Change (6x6) is enabled.
Fix Song Select Aeros Mode option (Midi Out)
Fix Transition Forgiveness bug when using some time signatures (e.g. 5/8, 6/8, and others)
BeatBuddy Firmware 4.1.3 Changelog
Fixed crash caused by playing fill, transition, fill one after the other on certain BeatBuddy songs
Renamed Loop Forgiveness setting to Transition Forgiveness
BeatBuddy Firmware 4.1.2 Changelog
Added help texts for song & folder selection (Midi-out)
Fixed typos
Fixed OFF state for the new Transition Forgiveness setting.
BeatBuddy Firmware 4.1.1 Changelog
Added transition forgiveness setting, default set to off
BeatBuddy Firmware 4.1.0 Changelog
Main Pedal & Player
Option to disable song transitions: Settings → Main Pedal → Transition

Option to play a count-in if song does not have an intro: Settings → Main Pedal → Intro → Intro or Count In

Option to turn off tap bpm on main pedal (So if pedal is set to release, you can hold it down as long as you like without entering tap tempo mode and release to start the beat): Settings → Main Pedal → Start Beat → Tap Tempo Mode

Loop forgiveness: If the BeatBuddy receives a song part transition MIDI command (CC:113, value 0) in the first 300ms of the measure, it will change song parts immediately without a transition fill and stay in time to the beat. This is because most likely the user intended the transition to occur in this measure and was a bit late in sending the command. This is common when trying to transition at the end of the measure, rather than in advance. This is the same way the Aeros works.

Improved hands-free content navigation to give the user a way to exit a folder (without using arrows or wait 5 seconds):

If on Folder list:

Short press on main pedal: Open selected folder
Hold press on main pedal: return to open song

If folder is open:

Short Press on main pedal: Selects and opens song
Hold press on main pedal: Goes back to folder list

This approach gives the pedal switch the following feeling:

short press → enters / select
hold press → go back / exit
Footswitches
Add next part / previous part commands in pause and playing menu

Tap tempo is registered only when set as option for specific footswitch (previously all footswitch presses were registered as a tap during tap tempo mode)

Improved hands-free content navigation:

Left foot switch press : up
Right foot switch press : down
Left foot switch hold : enter / exit folder
Right foot switch hold : enter / exit folder

Separated playing and paused footswitch behavior: You can now choose a different function for the footswitch depending on whether it is currently playing a beat or paused.

Added next part / previous part action in paused and playing menu
MIDI
MIDI-IN: Added default mode and playlist support for Program Change (PC)

Aeros mode : MSB is ignored, LSB >= 111 refers to playlists
Default mode: MSB + LSB makes the bank, MSB = 127 refers to playlists

Updated midi start message on unpause. When the MIDI Start message is sent while paused, unpause is controlled by the MIDI Start setting:

Intro → immediately

Main Beat → after fill / transition

BeatBuddy can send time signature as a custom CC-103 message

bit [6...2] : Numerator code == (real numerator - 1)
bit [1...0] : Denominator code

Added Midi In CC:113 Value 125: Cancel transition

Added Midi In CC:121: Exclusive transition (this was added so that you can transition on the BeatBuddy without transitioning on the Aeros).

New Midi In CC:122: No-fill transition: Trigger a transition without playing fill

Midi Out: Send Folder / Playlist and Song PC on loading song

Midi Out: Send Midi start message when receiving CC:113, value 0 when paused (this will start BeatBuddy playback)
UI
Improve long playlist name handling

Added scrolling of long playlist names in the home screen

Limited the number of characters in the popup screen

Added new loading states for better debugging: More useful info (invalid SD card, loading SD card, etc.)

Go to home screen when SD card is removed
Bug fixes
Fixed crash / restarting after triggering a factory reset

Fixed double line break in help texts (Less chance to miss important information)

Fixed SD card corruption issues

Fixed Playlist creation issue (corrupted SD card)

No more unnecessary warning when inserting the SD card on a computer

Default drumset: Fixed loading of previous drumset if default drumset is disabled after a power cycle

Default tempo: Fixed loading of previous tempo if default tempo is disabled after a power cycle
MIDI Commands
| CC | Values | Behavior | Version Added |
| --- | --- | --- | --- |
| CC-121 | [0,1-32, 126, 127] | Exclusive transition, the Aeros does not respond to this command and the BeatBuddy can use it to transition. By default this is disabled in the MIDI settings menu. | 4.1.0 |
| CC-122 | [0,1-32, 126, 127] | No fill transition,the BeatBuddy can use it to transition without a fill playing. | 4.1.0 |
| CC-113 | 125 | Cancel transition, cancel a transition that has not finished | 4.1.0 |
| MSB + LSB + PC | MSB= CC0 values 0-127 LSB= CC0 values 0-127 PC values 0-127 | The BeatBuddy can now send Song Select commands automatically when a song is opened, the command sent cannot be set, it is based on the song and folder location. In Default Mode, the BeatBuddy will send the MSB and LSB (representing folder) and a PC for the song within the folder. | 4.1.0 |
| MSB + PC | MSB= CC0 values 0-127 PC values 0-127- | The BeatBuddy can now send Song Select commands automatically when a song is opened, the command sent cannot be set, it is based on the song and folder location. In Aeros Mode Mode, the BeatBuddy will send the MSB 0-127 to represent the first 128 folders on BeatBuddy, LSB os not used. A PC representing the song within the folder will also be sent. This was done to allow user to control Aeros more versatility, LSB commands do not affect the Aeros. | 4.1.0 |