UPDATED 07/17/2022
Use the forum search function to locate and download almost (but not) all of the user-created drum sets
click on the magnifying glass icon in the upper right of the page
type the string Missing kits and it returns this: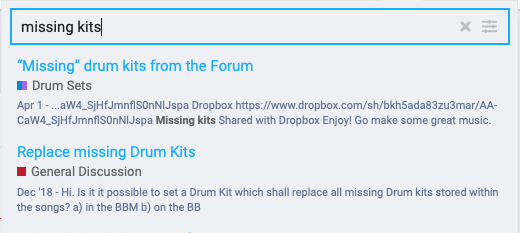 click on the first result and scroll to "Missing Kits" and click to open
pro tip: to easily find this page again, it's a good idea to bookmark the link in your browser
use the keyboard shortcuts for Find e.g., Command+F (macOS) or Control+F (Windows) to find a specific word for the kit you want e.g., CGuitar or Fiddle and it will return Dropbox download links


The only kits I could not find quite so easily were the SUB-Standard Pro Plain and SUB-Std Pro PL Bass 0-31 kits which I use a lot in the songs I post; to find these kits using the forum search function:
type Substitute and click on the second entry in the results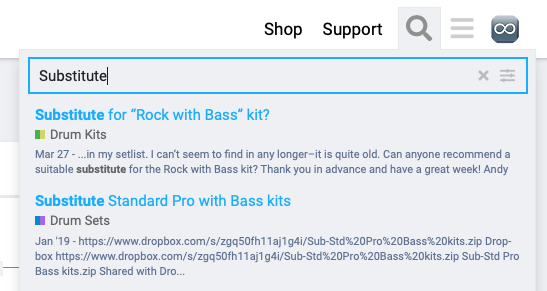 Some user-created drum sets are based on premium library drum sets (Vintage Ludwig and Standard Pro). If you bought those kits and you need the versions with bass, you'll have to show your proof of purchase receipts to the users that created the derived kits with bass. It works best if you send a PM to the original posters (OP). Hint: You can use the Substitute kits to preview what the OPB songs sound like.